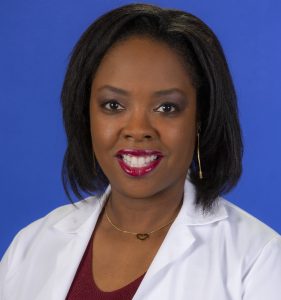 Temitayo Oyegbile-Chidi, M.D., Ph.D. is an Associate Professor at University of California Davis. She is board certified in Neurology, Sleep and Epilepsy. Her clinical and research expertise is in the fields of epilepsy and sleep in children and young adults. Her current research goals build logically on her past experience and expertise in sleep and epilepsy. Dr Oyegbile-Chidi is the Vice-Chair of Diversity, Equity and Inclusion in the Department of Neurology at UC-Davis.
Education:
Fellowship, Sleep, Northwestern Memorial Hospital, 2011
Internship & Residency, Pediatric Neurology, New York Presbyterian Hospital, 2010
M.D., University of Wisconsin School of Medicine & Public Health, Madison, 2005
Ph.D., Behavioral Neuroscience, University of Wisconsin School of Medicine & Public Health, Madison, 2005
B.S., Molecular Biology & Psychology, University of Wisconsin, Madison, 1999
Research Focus:
Dr. Oyegbile-Chidi's prior research had indicated that adults who developed TLE in childhood had worse cognitive outcomes compared to adults who developed TLE in adulthood. Even with successful treatment of seizures, the cognitive impairment remains a persistent feature of the disorder. Based on this, she developed an interest in investigating new-onset TLE. The long-term goal of her research is to understand the neurodevelopmental mechanisms underlying the manifestation of cognitive impairment in new-onset Temporal Lobe Epilepsy (TLE). The objective of her current research is to determine if inherent neural circuitry alterations in new-onset TLE patients are responsible for the cognitive impairment, as detected by simultaneous electroencephalography-functional magnetic resonance imaging (EEG-fMRI) in addition to traditional neuropsychological testing/cognitive measures. She also investigates how sleep modulates these neural circuitry alterations over time.
Awards:
Dr. Oyegbile-Chidi is actively involved in the field of neurology. She is a member of the American Academy of Neurology (AAN), where she serves on the Science Committee and several taskforces, the American Academy of Sleep Medicine and the American Epilepsy Society. Dr. Oyegbile-Chidi has received significant professional recognition, including selection for the AAN Diversity Leadership Program, participation in the AAN's Palatucci Advocacy Leadership Forum, the Minority Faculty Career Development Award from the Association of American Medical Colleges and the Sleep Health Policy Advocacy Award from the National Sleep Foundation. She serves on the board of the National Sleep Foundation as a Member-At-Large in the Executive Committee. She also serves on the board of Jhpiego and the Epilepsy Foundation in Washington DC. She is on the editorial board of Neurology Today and is on the editorial board of Networks in Sleep and Circadian Systems at the Frontiers in Network Physiology journal.